Planning a retreat, camp, or an event for your school, church, corporation, team-building group, or organization? Custom camps are here!
Thank you for your interest in The Edge Christian Camp. We are a 501c3 Non-Profit organization that is dedicated to seeing lives changed through the Word of God. We are located in Spring Grove VA. in the Hampton roads area right on the James River just across from Williamsburg and Jamestown. Nestled on 283 acres, we are back off of the main roads in Surry County. The Edge Christian Camp was established in 2016 and has served many camps, group retreats, and conferences over the past few years.
We welcome you to come and enjoy the facilities and grounds which God has provided us.
Custom Camps at The Edge exist to provide you and your group with individual experiences.
The Motel at The Edge

The motel facilities includes 20 standard rooms to include one queen bed and one twin bed, and 2 larger rooms, one with two queen beds and a set of bunks, and the other, one queen bed, one twin bed, and a set of bunks. Each motel room includes a desk, a chair, and restrooms.

The motel also has a large meeting space that will seat up to 60 with tables and chairs, and up to 120 with just chairs. There is also a full kitchen to prepare, cook, and serve your own meals if you choose.

The motel is located in the center of camp near the office and the dining hall with a view of the pond off the rear deck.

The Dorm at The Edge

The Dorm was just remodeled and completed in January 2022!

The Dorm facilities has four wings, each having 11 bunks to sleep 22 guest. Each wing includes it's own restroom and private door to the outside.

The Dorm also includes a large meeting space between the four wings that includes a refrigerator.

This is a great building for larger youth or adult group camps or retreats.

The meeting space can be laid out with chairs or chairs and rectangle or round tables.

The Lodge at The Edge

The lodge facilities sleeps a total of 32 guest. There are two private bedrooms downstairs consisting of a queen bed and one of the rooms includes a bunk. Downstairs of the lodge includes two handicap restrooms with showers, a full kitchen for preparation, cooking , and serving meals, and a medium sized meeting space that can be setup with chairs.

The upstairs of the lodge consist of two bunk rooms, each having 7 bunks for a total of 14 beds per room. Each bunk room also includes a restroom. A washer and dryer are provided just outside the bunk rooms in the hallway.

This is a great space for smaller youth or adult camps or retreats.

Just outside there is a private firepit with picnic tables for outdoor experiences.

The Cabins at The Edge

There are four cabins tucked in the edge of the woods. Each cabin consist of 5 bunks for a total of 10 guest. Each cabin is climate controlled and can be comfortable all year round.

As the cabins do not include restrooms, there is a shower restroom facility about a 100 yard lighted walk from all the cabins.

Just outside the cabins is a firepit and picnic tables for outside experiences.

Tent camping is located close by in this area of camp.

RV hookups for special speakers and evangelist are located in this area of camp.

The Manor at The Edge

The Manor house is a 1850's 5 bedroom, 5.5 bathroom house overlooking the James river on the back side of camp. This is a fully furnished home with a full kitchen and linens.

The Manor home is a great location for staff retreats, and smaller gatherings.

The Manor home is currently on VRBO and can be booked all year. It is also available to add to any retreat or conference that you may be looking to plan.

Dining Hall

Activity Building
Customization
Do as much or as little as you'd like for your retreat or event. We offer options for program development and support, preaching, special music, seminars, session creation, marketing materials, promotional items, and online registration.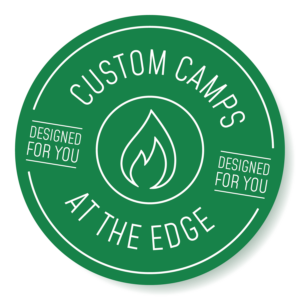 Let's Plan your event!
We are a year-round, faith-based facility, so the time of the year for your event has no limits. Let's make the plan for your retreat or event a reality today! Select one of the options below to get started.
757.294.3636
info@theedge.camp
702 Eastover Drive Spring Grove VA 23881
Camp meals at The Edge consist of: One main dish, Two sides, Dessert, drinks, and coffee.
Standard Camp meal times are:
Breakfast – 8:30am
Lunch – 12:30pm
Dinner – 6:00 pm
Conference meals at The Edge consist of: Two main dishes, 2-3 side dishes, Dessert, Full salad bar, Drinks, and Coffee.
Standard Conference meals times:
Breakfast – 8:00am
Lunch – 12:00pm
Dinner – 5:30pm
Continental breakfast is an option we offer for those seeking to schedule one day events or conferences with a light option for breakfast.
Continental breakfast includes items such as Scones, Donuts, Danishes, Fruit, etc. Includes drinks and coffee.
Snacks are great addition to all overnight retreats or conferences.
Snacks can include: Cheese, Crackers, Fruit, Chocolate, Drinks, etc.
Smores are a great addition to campfires.
Shops at The Edge can be planned and schedule for your event all year. The shops at The Edge consist of:
Camp Store – Apparel, Books, Study Guides, Umbrellas, Jewelry, Wrist Bands, Coffee Mugs, etc.
Craft Shop – Leather Stamping, Jewelry Making, Paracord Crafts, and Wood Craft Painting is available in the craft shop.
Corner Creamery – Hershey's Ice Cream, Milkshakes, Soda's, Candy, Snacks, etc.
Meeting Rooms
Half Court Gymnasium
Game Room Games – Carpet Ball, Foosball, Air Hockey, Ping Pong, etc.
Outdoor Picnic Dining
Outdoor Chapel with power
Lighted Game Field
Sand Volley Ball
Bacon Ball
Cornhole
Horse Shoes
Hiking Trails
Fishing – (Must have VA License)
Swimming in the James
Swimming Pool
Camp Fires – (Firewood)
Canoes / Kayaks / Paddleboards
9-Square
Shooting Ranges
Gymnasium
Archery
Riflery
Axe Throwing
Laser Tag
Hay Rides
Edge Program Support