- about us -
A Camp Ministry Dedicated to Changing Lives!
The Edge Christian Camp is for 3rd - 12th grade.
Nestled on 283 acres in Surry VA, The Edge rest on the James river across from Williamsburg and Jamestown. Our faculties host a number of buildings to include a lodge, motel, dorms, cabins, dining hall, activities building, as well as 1/2 mile of beach and a JR Olympic size swimming pool.
Christ is the focus. Beautiful property. Fantastic experience.
It was the best summer camp ever! I had great time here and have
met a lot of new friends! I'll be back!
I really enjoyed the prayer times and the God & I times.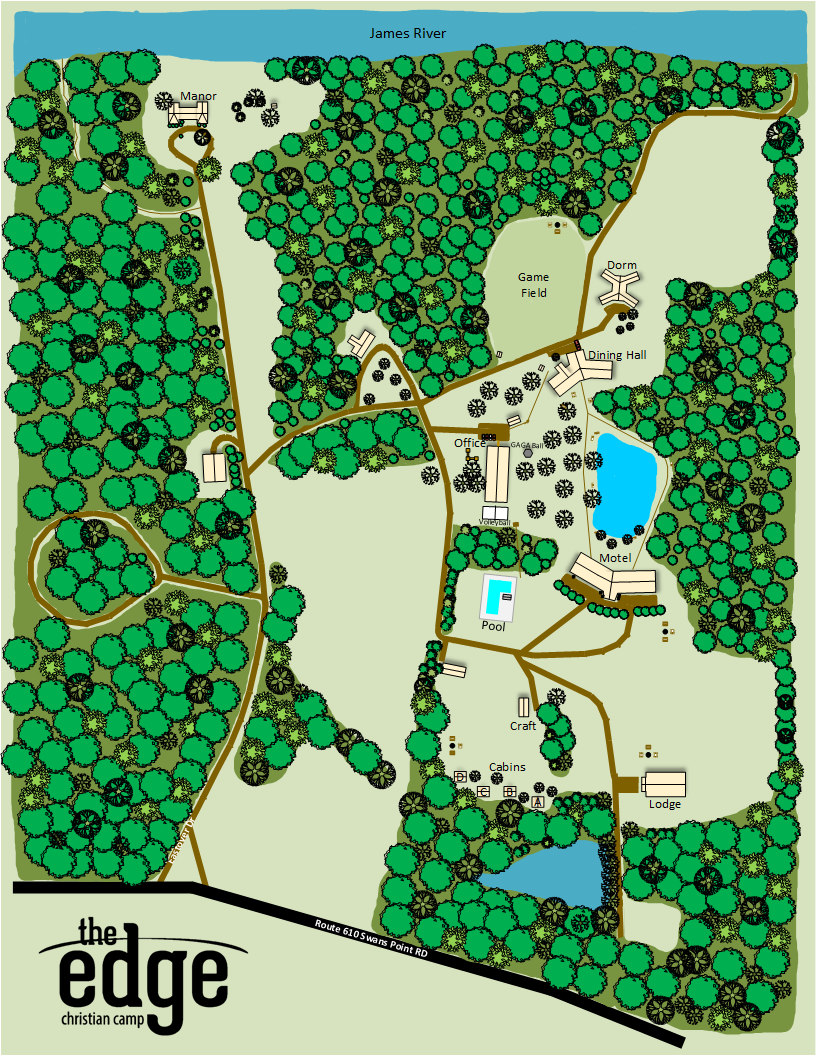 - map info -
overview our camp territory
283 acers on the james river across from Williamsburg and Jamestown.
– MEET OUR STAFF-
Founder / President
Scott Carsley grew up in Virginia and surrendered to the Lord's calling to full time ministry in 2013. He attended Virginia Baptist College where he is completing his Pastoral Studies degree. Scott has worked in children's ministries for 17 years, directing Master Clubs and AWANA programs, serving as youth pastor and deacon as well as many other outreach programs. Scott has a vision and compassion to reach souls for Jesus Christ through both children and adult programs and conferences. He also has a passion to train men and women for the ministry and has since opened opportunities for youth to work on their college degree at camp. (Bridge-To-Campus) He and his wife Jennifer were married in 2000 and have one son, Nathan.
Camp Director
Carey grew up as a Pastor's kid and knew the gospel very well, but it wasn't until he was twelve that he accepted the Lord as his personal Savior. He than began to help his father as much as possible at his home church. When Carey turned fifteen, God called him to preach and he started to preach in his home church as well as other local churches. Carey joined our team in the fall of 2019 working on our Marketing and Promotions group. He is excited for what God is doing the hearts and lives of all the people involved with The Edge Christian Camp. "I am here to glorify God and to see souls saved and draw closer to Jesus Christ."
Kitchen Director / Chef
Allan Toothman is a retired Navy Veteran and has been a faithful member of his home church. Allan has had the opportunity to work in many ministries over the years and has been at the property where The Edge calls home for 21 years as a staff member. Allan enjoys the kitchen and looks forward to meeting all the guest when they come in for meals.
Guest Services
Lydia was raised in a church her grandfather (Warren Skinner) pastored. Her grandfather lead her to Christ when she was 8. Since then, she has had a strong desire to serve. Through the years, she has had the opportunity to serve in AWANA, Master's Club, Jr. Church and Summer Camp Ministry. She is excited to see how God uses The Edge Christian Camp to accomplish His work."
- contact info -
Contacts
Address:
USA, 23881, Spring Grove
702 Eastover Drive