Speakers: Pastor John & Mrs. Dawn Charles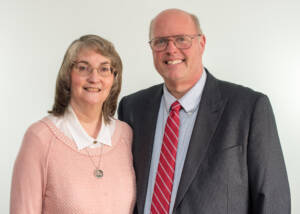 Brother John Charles was saved at the age of 14 through the ministry of Good News Baptist Church in Chesapeake, VA. He has served in various ministries such as youth evangelism, bus ministry and church wide visitation as a teenager.
In 1980, he went to Atlantic Baptist Bible College in Chester, VA and graduated in 1986 with the call to ministry. The Lord led him to Palmetto Ave. Baptist Church in Sanford, FL, where he served on the church staff for 3 years doing music, preaching in chapel, teaching in the Christian School and a College & Career Class, and working on the bus routes, where he also met his wife, Dawn.
He is currently the Pastor at Central Baptist Church in Yorktown VA, where he has ministered for the past 11 years.
Pastor John and Mrs. Dawn have been blessed with four wonderful children and one grandchild.
Cost per couple: $285
Check-in: 4pm on Thursday May 6th
Check-out: 1pm on Saturday May 8th